Desiderio da Settignano
Monumental Tomb of Carlo Marsuppini, 1454-1459
Artist: Desiderio da Settignano (Settignano 1430 - Florence 1464)
Title: Monumental Tomb of Carlo Marsuppini (1398-1453)
Date: 1454-1459
Material and tecnique: marble, traces of gilding and polychromy, fresco on the back wall
Dimensions: 601 x 358 cm
Position: Basilica of Santa Croce, north aisle, sixth bay
Carlo Marsuppini, a refined humanist, poet and tutor to Piero and Giovanni de' Medici, was appointed Chancellor of the Florentine Republic in 1444. On his death in 1453 it was decided to honour his memory with a monumental tomb, an initiative that earned the patronage of the Martelli and Medici families.
Desiderio da Settignano designed the tomb in close "dialogue" with that of Leonardo Bruni facing it from the opposite aisle, emulating its overall composition and its approach to the theme – death and the secular glorification of the deceased – while softening the stiffness of Rossellino's design.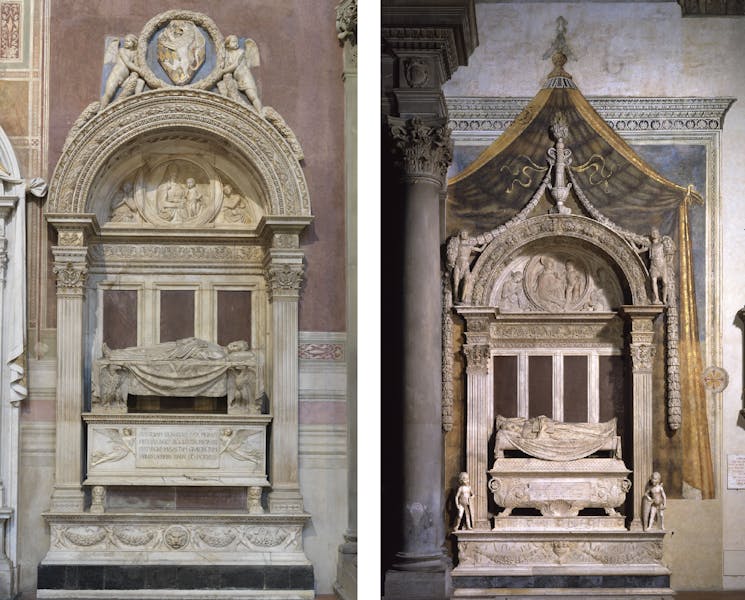 Using such compositional variants as lowering the sarcophagus, adding a garland held by angels over the arch and falling down the side of the pilasters or the presence of shield-bearing putti at their foot, the sculptor manages to impart greater movement to his work by comparison with his illustrious predecessor's design.
The insertion of highly sophisticated classicising and naturalistic decorative elements and a softness in the handling of the decoration and details made famous by Vasari's words – we see certain wings which seem to be made not of marble but of feathers – are features that we find in everything to which the sculptor turned his hand.
The tomb, which was extremely demanding to build, was made by Desiderio with the assistance of various young sculptors whose hands scholars have endeavoured to identify. The right-hand garland-bearing angel has been attributed to Benedetto da Maiano and the left-hand angel to Verrocchio, while the name of Matteo Civitali has been suggested for the adoring angel above left and that of Domenico Rosselli for its counterpart on the right.
The wall tomb is associated with a tomb slab on the ground dedicated to Carlo Marsuppini's father Gregorio.
Restoration in 1997 revealed the widespread use of polychromy on the marble – the flame above the arch was originally painted red – while the entire structure is completed by a false canopy frescoed on the back wall and framing the tomb.