Organise your visit
The monumental complex of Santa Croce welcomes thousands of visitors every year who flock to discover its immense historical and artistic heritage. On this page you can consult all the information useful to plan your visit: from opening hours to ticket prices, as well as facilities for visitors with disabilities and indications for groups.
---
Opening Times
From Monday to Saturday

No further admission after 5.00 pm

9.30 am – 5.30 pm

Sunday and Religious Holidays

Epiphany (6 January), Assumption (15 August), All Saints (1 November), Immaculate Conception (8 December).
No further admission after 5.00 pm

12.30 pm – 5.45 pm

Holiday Closure

New Year's Day (1 January), Easter, Feast of St. Anthony of Padua (13 June), Feast of St. Francis of Assisi (4 October), Christmaas Day (25 december), Boxing Day (26 December)
Refectory closure for the setting up a new visitors route
We inform visitors that from Monday 5 June to Thursday 22 June work will be underway to create a new visitors route in some areas of the monumental complex. The Refectory will be closed to the public and will reopen to welcome visitors from June 23 with the new exhibition.
---
Price list
Tickets can be purchased at the ticket office of the monumental complex or online.
ID must be shown in support of concessions and/or free admission. Free tickets must be collected directly at the ticket office of the monumental complex.
Please remember that, in the case of online ticket purchasing, a booking fee of €1 for each ticket is applicable (except schools and family tickets).
To help us ensure smooth access, we recommend you book your visit through our on-line ticketing service.
PLEASE RETAIN YOUR ENTRANCE TICKET
Showing your Santa Croce entrance ticket at the Casa Buonarroti museum allows you to purchase a reduced price entrance.
Full price

8 €

Concessions

Individual visitors (aged 12–17)
University students
Schools (up to 35 people, guide not included)
Groups of more than 15 people (guide not included)
Teachers holding Edumuseicard
Holders of "Treno di Dante" ticket

6 €

Families

Admission free for children under 18 if accompanied by parents paying for admission

8 €

Free

Children aged 0–11
Residents in the municipality of Florence
People with disabilities and their carers
Firenze card
Authorised tour guides
Accredited journalists
Religious

Audio-guide (online rental)

Available in Italian, English, French, Spanish, German.
For rental the deposit of an original identity document is required.

4 €

Audio-guide (onsite rental)

Available in Italian, English, French, Spanish, German.
For rental the deposit of an original identity document is required.

6 €

Radio earphones rental for groups and schools

Please note: earphones are used during group visits. They are not an audio-guide and do not include the guide service

1,5 €
---
Services
Santa Croce has put together a number of visitor aids to make it simpler for you to visit the complex and to offer you a richer visitor experience such as free Wi-Fi points, an audio-guide and our apps offering special themed itineraries. We also have a bookshop where you'll be able to buy guidebooks and both historical and art history publications.
---
Groups and Guides
We allow groups up to a maximum of 35 people plus the guide.
Tour guides are required to communicate the presence of their group at the entrance and to equip them with earphones or headesets if the group is made up of 10 or more. Earphones can also be rented at the ticket office before the visit.
A reduction for groups is envisaged, starting from 15 participants. It is also possible to take advantage of the same reductions and offers applicable to single tickets, by presenting a valid id at the entrance. Guides can access for free by showing their badge.
You can book when purchasing tickets at the monumental Complex ticket office or online at Admission for Groups – Online Tickets (midaticket.it)
In the case of delay your booked slot lapses 15 minutes after the given time.
For more information, please contact our booking service.
It is possible to request private tours for small groups and families and to organize visits of the monumental complex behind closed doors. For more information, visit the dedicated page.
---
Accessibility
Access
Visitors with impaired movement or in a wheelchair can access the basilica and the cloister via a ramp and a raised platform. The ramp is situated on the north side of the basilica in Largo Bargellini, while the platform is situated at the cloister exit giving onto Piazza Santa Croce. Please note that admission for visitors with disabilities and their carers is free of charge and enjoys priority, with no need to book. Guide-dogs used by visitors with impaired sight or hearing and holding the appropriate certification are welcome.
Tour
Many parts of the Santa Croce complex are open to visitors with disabilities, while only a handful of areas suffer from limited access. The nave and aisles of the basilica are easy to move about in, but the chapels in the transept are on a raised level accessed via a few steps which cannot be negotiated with a wheelchair. To visit the Refectory, leave the basilica via the ramp in Largo Bargellini and re-enter the complex via the Arnolfo di Cambio cloister on Piazza Santa Croce.

Virtual tour
If you are unable to visit the Santa Croce complex in person or if you wish to find out more about its treasures before your visit, you can purchase the official SANTA CROCE app in all the main on-line stores and enjoy a virtual tour with a wealth of content.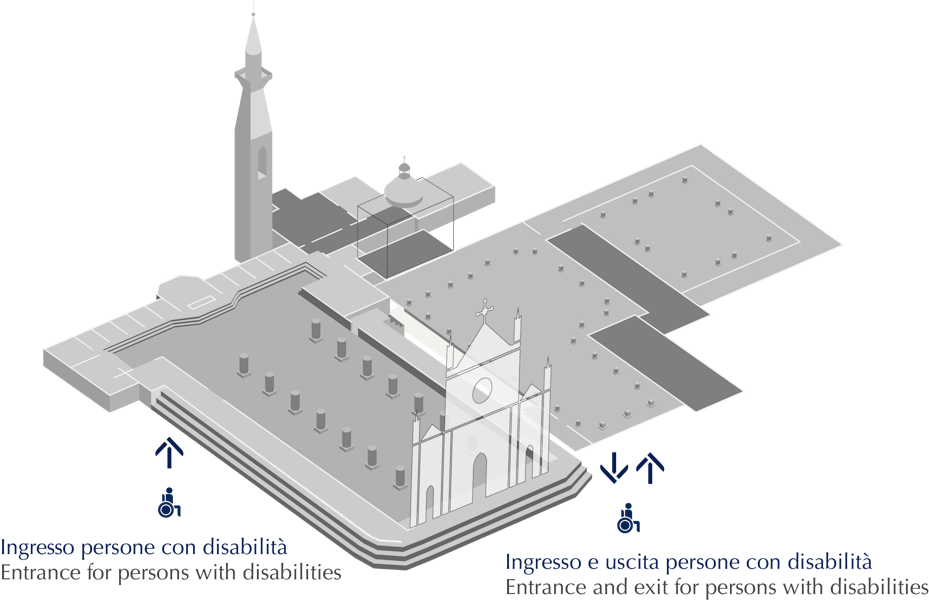 Discover all the virtual tours
---
How to reach us
The Santa Croce complex is situated in the very heart of Florence, in one of its oldest and most characteristic neighbourhoods. If you arrive by train at Santa Maria Novella station, you can easily reach us on foot via the city's historic centre in about 20 minutes. The visitor entrance and ticket office are situated on the north side of the basilica in Largo Bargellini.
Getting here by car
The closest motorway exit to the complex is FIRENZE SUD. Santa Croce is in a restricted traffic zone in Area B. You can leave your car in one of the car parks a short walk away (Sant'Ambrogio or Beccaria), but if you do wish to drive into the restricted traffic zone you have to register on SAS www.serviziallastrada.it, key in your car registration (number plate) and purchase a daily transit or parking permit.