Cimabue
Crucifix, Before 1288
Artist: Cimabue (Cenni di Pepo; Florence, recorded from 1272 - Pisa 1310)
Title: Crucifix
Date: before 1288
Material and tecnique: tempera and gold on wood
Dimensions: 433 x 390 cm
Inscription: HIC EST IESUS / NAZARENUS / REX IUDEORUM on the upper board
Position: Sagrestia
Cimabue's imposing Crucifix is one Santa Croce's most iconic works and will forever be a symbol of the tragedy of the flood that hit Florence in 1966, conjuring up images of it submerged by the waters, soiled with mud and carted off on a makeshift trolley. It was first taken to the Limonaia in Boboli, which had been turned into an emergency first-aid room for panel paintings damaged in the flood, and then removed to the Opificio's restoration laboratory in the Fortezza da Basso. After being displayed in a series of exhibitions in Europe and America, it was finally returned to the museum. Sadly, the loss of some 60% of its painted surface prevents us from appreciating its superb technical quality, yet thankfully without impairing its expressive power. It was hung in the sacristy in 2013 to protect it against further flooding.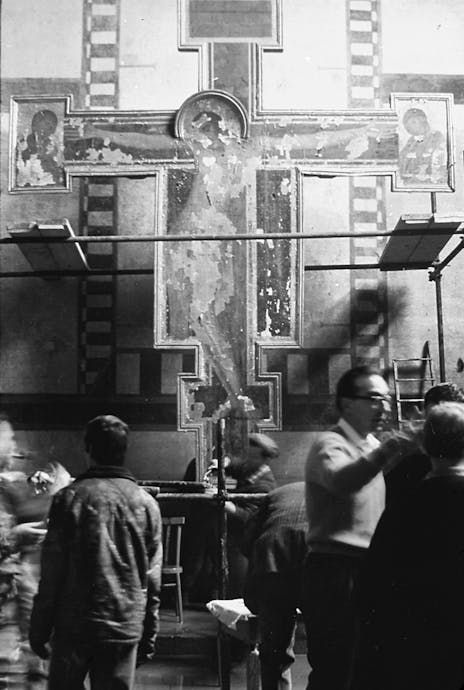 The Crucifix was presumably painted for "Santa Croce II", on which construction began some time in the mid-13th century, but it was reused in the present church erected after 1295. In all likelihood it stood facing the congregation on top of the rood screen separating the faithful from the Franciscan friars, but sources reveal that it changed places several times over the centuries. In 1900 it was moved to the museum that had recently opened in the convent refectory.
The depiction of Christ reflects the Byzantine iconography known as Christus patiens, or deceased, flanked by the Virgin and St. John the Evangelist in mourning. The panel above the figure of Christ bears the inscription HIC EST IESUS NAZARENUS REX IUDEORUM.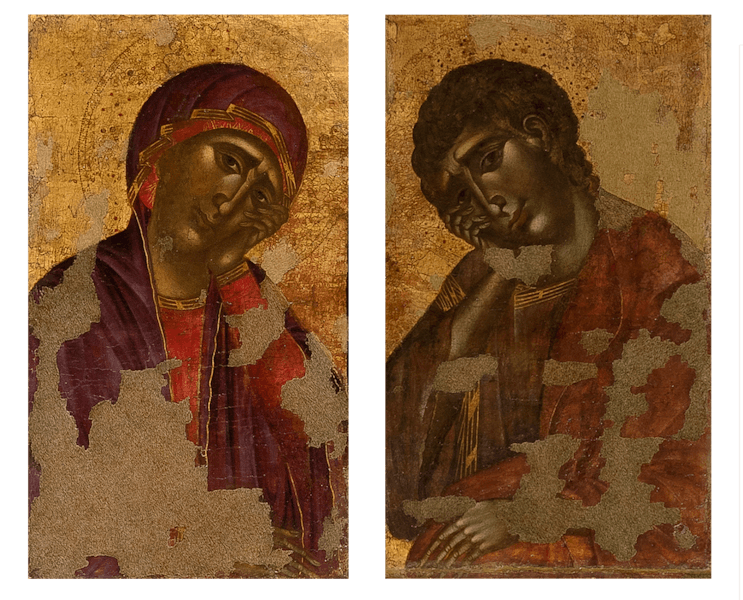 The colour used for the figure of Christ, the true colour of death, is an innovation by comparison with Byzantine standards, as indeed is the depiction of His body, no longer rigid with an abstract division of the belly into three parts but displaying forms modelled in masterly chiaroscuro. The highlighting of the loincloth, veiled and extremely sophisticated, allows the true shape of a man of flesh and blood to show through.