Giorgio Vasari
The Last Supper, 1546-1547

Artist: Giorgio Vasari (Arezzo 1511 - Florence 1574)
Title: Last Supper
Date: 1546-1547
Material and tecnique: oil on wood
Dimensions: 262 x 660 cm
Inscriptions: "HOC FACITE / IN MEAM / COMMEMORATIONEM", above; "CAVALIER GIORGIO VASARI ARETINO / DIPINSE QUESTA OPERA L'ANNO / MDXXXXVI [1546]. / RESTAURATA L'ANNO MDLXXXXIII [1593], E POI L'ANNO MDCCXVIII [1718]", below
Position: Refectory
This monumental panel painting was commissioned from Vasari in November 1546 on the understanding that he would deliver it within six months and that it would be based on a drawing now in the Staatliche Graphische Sammlung in Munich. The picture was to adorn the refectory of the Murate, a convent of cloistered Benedictine nuns in what is now Via Ghibellina and one of the more select such establishments in Florence. The sources disagree as to who commissioned it. Faustina Vitello may have contributed when she took vows, but also Pope Paul III Farnese through Lelia Orsini Farnese, a nun related to the pope who may have acted as a go-between with the Abbess Gianna Bonsi. The operation was certainly supervised by Giovan Maria Benintendi, an expert connoisseur and patron of the arts.
With the suppression of the religious orders (1808–10) decreed by the French Government, the Murate was closed and everything it owned became the property of the state. The Last Supper was taken briefly to San Marco before being moved in 1815 to Santa Croce where it was hung in the Castellani Chapel, remaining there for over 50 years.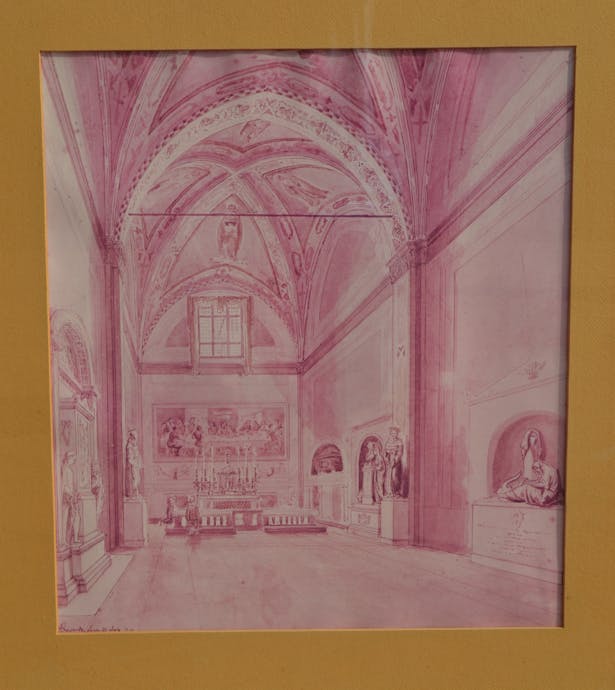 In the late 19th century it was moved to the former refectory which was due to be turned into a museum in 1900. When the museum acquired further space between 1959 and 1962, the painting was hung in the room by the second cloister, where it was submerged in water and mud on 4 November 1966.
The Last Supper after the flood on 4 November 1966, following an initial operation involving applying tissue paper to the surface to prevent the paint from flaking.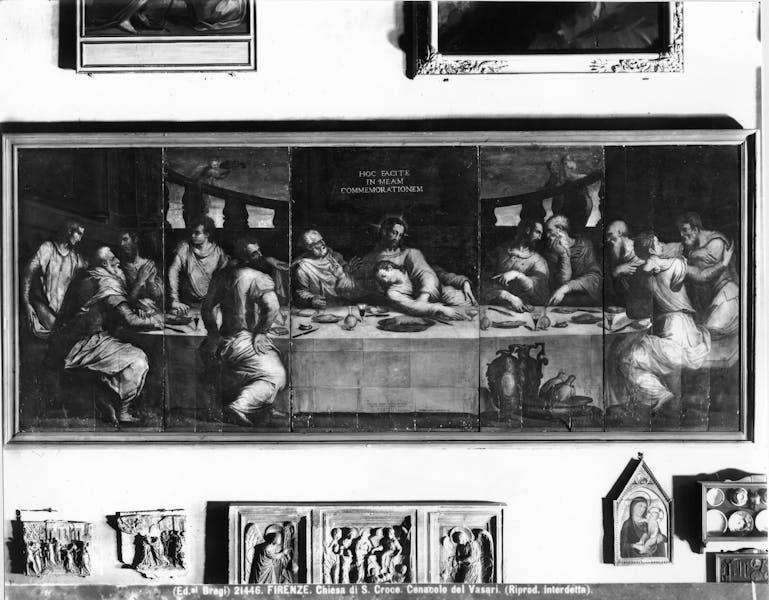 The painting was held in storage with the Soprintendenza until an astonishing restoration job was performed on it from 2004 to 2016 prior to its return to the Refectory, where a system of counterweights was then put in place to enable it to be rapidly lifted by mechanical means in the event of a flood warning.
Vasari updated the traditional Florentine approach to the subject by creating a sophisticated study of the construction of space, which a balustrade tells us is semicircular. The inscription in the centre "Hoc facite / in meam / commemorationem", is different from the inscription on the drawing, thus pointing to the cultural climate in which it was painted shortly after the start of the Council of Trent, a moment marked by strong religious tension.