Antonio Berti
Monumental Tomb of Ugo Foscolo, 1935-1937
Artist: Antonio Berti (San Piero a Sieve 1904 - Sesto Fiorentino 1990)
Title: Monumenatl Tomb of Ugo Foscolo (1778-1827)
Date: 1935-1937, inaugurated 1939
Material and tecnique: marble
Dimensions: 353 x 80 x 65,5 cm
Inscription: "ANTONIO BERTI 1939 XVII [27]"
Position: Basilica of Santa Croce, south aisle, seventh bay
Foscolo is depicted as a young man striking a bold combatant's pose, swathed in a cloak and with spurs on his boots before a "Greek column base echoing his distant Hellenic origin". His broad-collared shirt and sideburns place the poet squarely in his period, and his face is inspired by his best-known portraits. The figure, raised on a white marble pedestal with his name and the Three Graces carved on it, stands in a niche, his right hand pointing to the tombs that prompted him to christen Santa Croce the "temple of Italy's glories" in his Sepolcri.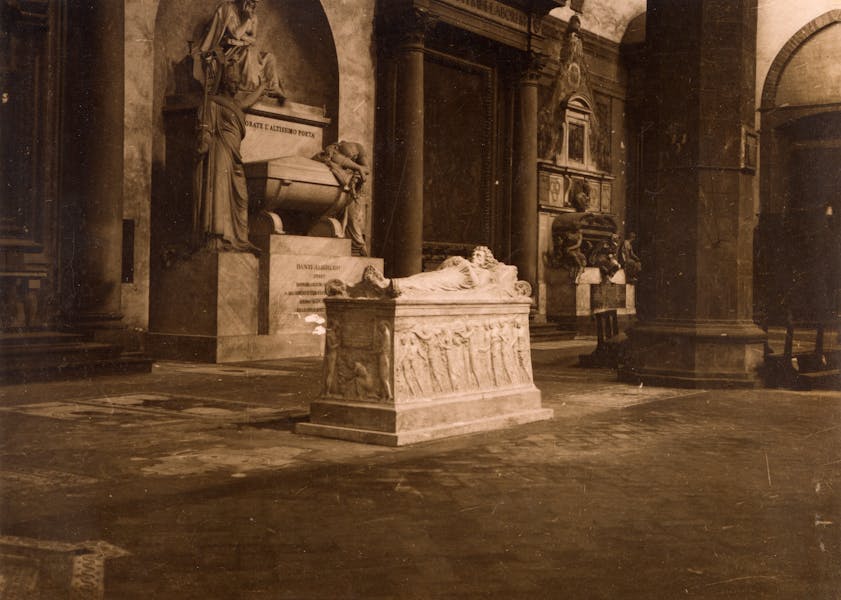 When Foscolo died in Turnham Green on 10 September 1827, an "exile in a foreign land", he was buried in Chiswick churchyard where his body was to remain until 1871, when it was moved to Santa Croce. The poet was initially commemorated by a marble gravestone bearing his name, but a committee was later set up to have a monument erected to him, though three competitions failed to produce a winner. It was only in 1910 that the fourth jury chose the entry of young Zulimo Rossellini, who completed the work in August 1927. A controversy over the unknown artist and a determination to impart a more martial air to the work prevented it from being placed in Santa Croce. It was only finally erected in Pavia University's Magnolia Garden in 1994.
According to Florence City Council, when Minister De Vecchi di Val Cismon learnt in 1935 that Antonio Berti had followed sculptor Libero Andreotti's advice and made sketches for a statue of Foscolo, he chose one and commissioned the sculptor to produce the finished work. In addition to Andreotti, who died in 1933, a role may also have been played by Ugo Ojetti, one of the most powerful cultural figures of the Fascist era, who had always afforded Berti his unflagging support.
The monument was completed in 1937 but was only inaugurated on 27 April 1939. The determination of the Fascist government and of Florence City Council to make political capital out of resolving the age-old controversy is openly stated in the inscription on the floor.