Tour on demand
Our visits on demand of the monumental complex.
Come and discover Santa Croce together with an expert guide: the story of masterpieces by Giotto, Cimabue, Donatello, Gaddi, Bronzino and many more, will unfold in front of your eyes. Be inspired by the tombs of great personalities of the past such as Dante, Machiavelli, Michelangelo, Galileo or Foscolo. Admire the sheer perfection of the Pazzi chapel designed by Filippo Brunelleschi, relive history whilst strolling through the great monumental cloisters, accompanied by an engaging and customised narration.
Our guides will be happy to answer all your questions and can offer a tailor made experience based on the requirments of your family or group.
Our private tours are available on request up to a maximum of 25 people. Contact us on booking@santacroceopera.it and we will help to plan your next visit!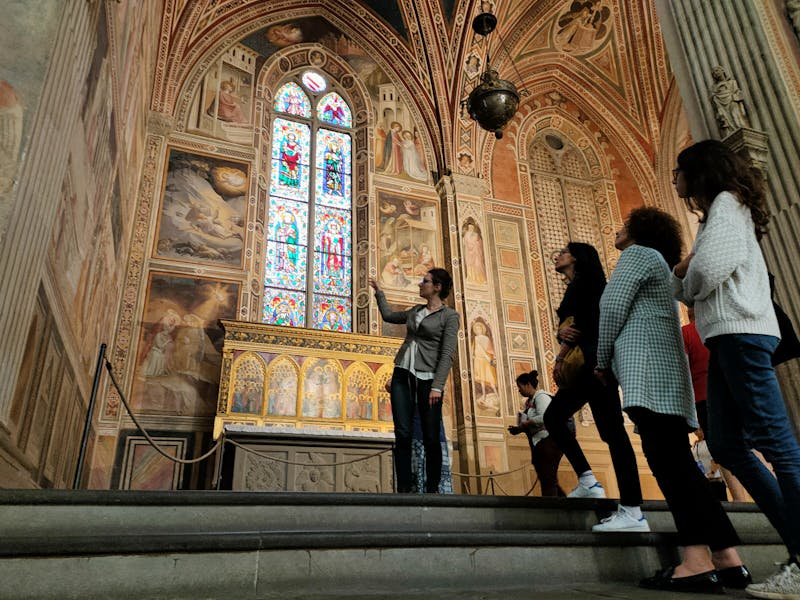 Visit behind closed doors
The Opera di Santa Croce offers a unique cultural experience: the possibility of accessing the complex "behind closed doors" to immerse themselves in the almost unreal silence of these ancient spaces, admire the majesty of the basilica and its treasures, including the hidden ones, thus discovering masterpieces that are rarely shown to the public.
The visit starts in the basilica, with the chapels enhanced by the polychrome stained glass windows that project multi-coloured shapes onto the magnificent frescoes from the fourteenth and fifteenth centuries. Along the naves are the monumental tombs of the Great Italians who changed the course of history.
One can also gaze at the magnificent sixteenth-century altarpieces and appreciate timeless works of art. The journey then continues into the quiet of the monumental cloisters, through the architectural perfection of the Pazzi chapel designed by Brunelleschi and inside the ancient refectory where visitors will be welcomed by the masterpieces of Donatello and Vasari.
The behind closed doors experience is usually organised outside public opening hours, at 8.30 in the morning or at 7 pm. Our staff are also at your disposal to evaluate in-depth content and alternative itineraries conducted by art historians, to be defined and personalised according to your requests. An optional guide service is also available in various languages.
To find out the costs and to plan a visit, contact us on booking@santacroceopera.it!