Coppo di Marcovaldo
St. Francis and Twenty Stories from His Life ("Bardi Altarpiece"), 1245-1250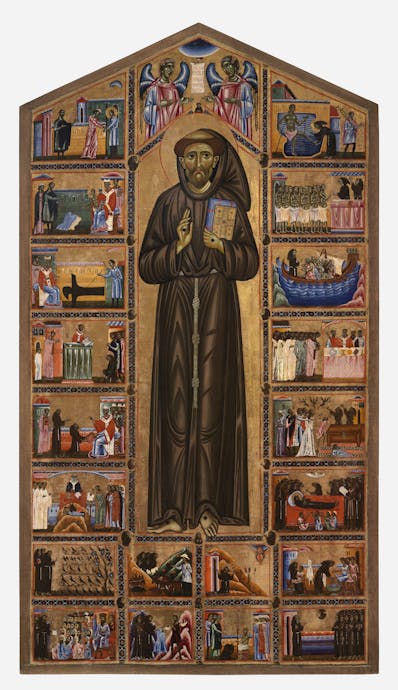 Artist: Coppo di Marcovaldo (Florence c. 1225 - died after in 1276), attributed
Title: St. Francis and Twenty Stories from his Life ("Bardi Altarpiece")
Date: 1245-1250
Material and tecnique: tempera and gold on wood
Dimensions: 230 x 123 cm
Inscription: "HU[N]C EXA/UDITE P(ER) / HIBENT[EM] / DOGMAT/A VITE" in the scroll above
Position: basilica of Santa Croce, transept
This altarpiece is one of the most important painted works of the 13th century. Possibly commissioned by the Tedaldi family, it has been on the Bardi Chapel altar since 1595, whence the name "Bardi Altarpiece" and the conventional name of "Master of the Bardi Altarpiece" used for the artist before it was attributed to Coppo di Marcovaldo.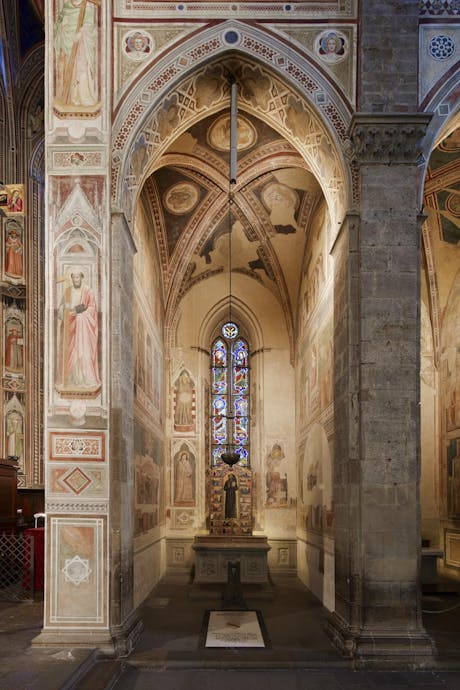 St. Francis is shown standing, blessing, with a book in his left hand. The inner decorative frieze contains small busts of Franciscan friars, possibly representing the Santa Croce community of the time. The 20 stories surrounding St. Francis, offering us the most complete narrative of the saint's life before the Assisi cycle, are taken from Tommasa da Celano's First Life (1228–9) and should be read anticlockwise starting top left: Francis, imprisoned by his father, is freed by his mother; he removes his clothing before Bishop Guido of Assisi and his father Bernardone; he designs the Franciscan habit in the presence of the bishop; he espouses the poverty of the Gospels, symbolising his choice by removing his shoes; he and his companions are received by Pope Innocent III who verbally approves the Franciscan rule (later officially ratified by Pope Honorius III); he creates the first crib in Greccio; he preaches to the birds; he preaches to the Saracens in the Sultan's presence; he rescues a lamb grazing among goats; he exchanges his habit for two lambs marked for slaughter; he receives the stigmata; he publicly repents for breaking his fast; he appears to Brother Monaldo at a meeting of the friars in Chapter at Arles while St. Anthony is preaching; he teaches the lepers, holding one on his knee and washing another's feet; on his death, his soul is borne to heaven by angels and cripples are healed; at his funeral he heals a girl with a twisted neck and expels demons from a woman of Narni and from Pietro da Foligno; he is canonised by Pope Gregory IX; he prevents the wreck of a ship which had sailed from Ancona; grateful pilgrims and sailors bring candles to his tomb; he heals Bartolomeo da Narni's gout.
The altarpiece was certainly painted after the saint's canonisation in 1228 but an order was issued to destroy all biographies of St. Francis earlier than that of St. Bonaventure in 1266, and we can further narrow that range down to 1245–50 on stylistic grounds. The attribution to Coppo di Marcovaldo, Florence's most important painter prior to Cimabue, is based on the figures' sculptural quality, on their intense expressions and on a lesser interest in the depiction of space and architecture.