Stefano Ricci
Cenotaph of Dante Alighieri, 1818-1829
Artist: Stefano Ricci (Florence 1756-1837)
Title: Cenotaph of Dante Alighieri (1265-1321)
Date: 1818-1829, inaugurated 1830
Material and tecnique: marble
dimensions: 520 x 270 cm
Inscription: "STEFANO RICCI F[IORENTINO] F[E]CE"
Position: Basilica of Santa Croce, south aisle, between the second and third bays
Dante's cenotaph, the City of Florence's first official tribute to the poet who died in exile and is buried in Ravenna, was promoted by Grand Duke Ferdinando III (1769–1824) and paid for by a public funding initiative signed by some of the leading players on the Florentine cultural scene at the time. The initiative attracted widespread support and Giacomo Leopardi composed his celebrated hymn entitled Sopra il monumento di Dante che si preparava in Firenze in 1818 as a mark of his enthusiasm. The artist chosen to carve the cenotaph was Stefano Ricci, one of the most important Tuscan sculptors of his day who had already worked in Santa Croce but had never previously turned his hand to something so monumental.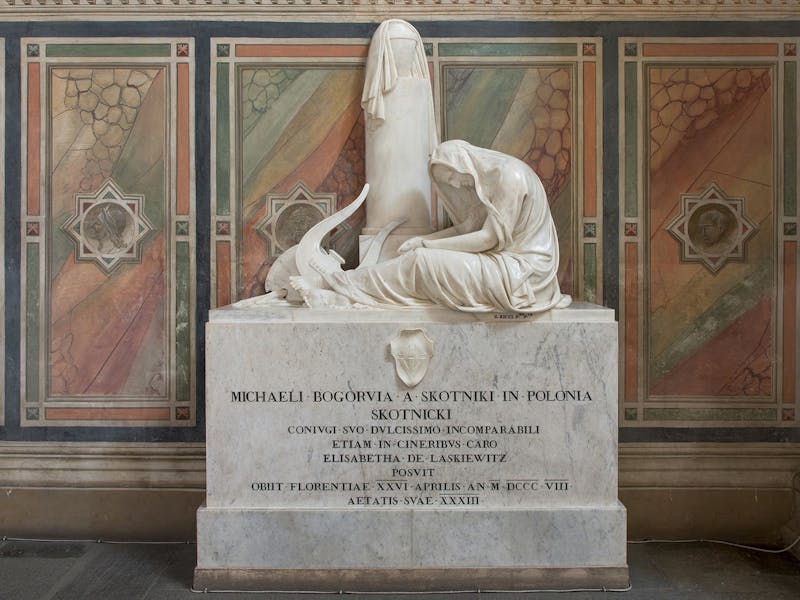 The cenotaph had a difficult gestation, the sculptor preparing numerous designs before finally achieving a definitive version and then taking over ten years to produce it.
Dante dressed in classical garb and crowned with a laurel wreath is seated deep in thought high above the centre of the composition, his arm resting on the Divine Comedy. Two female figures accompany the sarcophagus. On the left, Italy stands erect sporting a crown of towers and walls, while on the right weeping Poetry drapes herself over the tomb.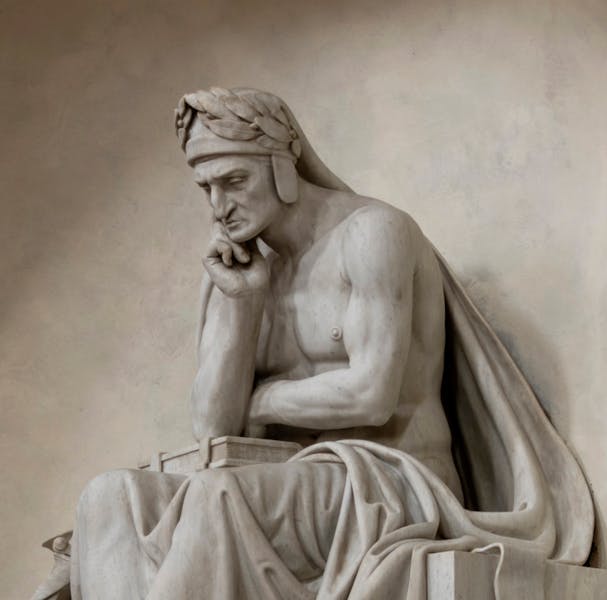 The composition and the poses of the figures echo the work of Ricci's undisputed model, Canova, in his tombs of Pope Clement XIV in Santi Apostoli in Rome and of Clement XII in St. Peter's for the figure of Italy.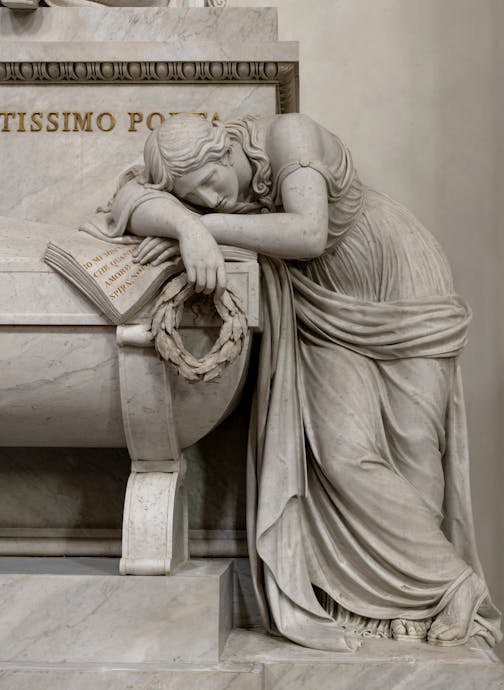 The cenotaph, which is both imposing and demanding in technical terms, was inaugurated on 24 March 1830, many years after it was first designed, attracting much praise and the admiration of sculptor Berthel Thorvaldsen, but also serious criticism. In an age ripe with purist and Romantic ideals, the cenotaph with its patent Neoclassical pedigree appeared hopelessly old-fashioned.