Dante Alighieri's Cenotaph
The monument was in a good state of conservation with the exception of consistent deposits of airborne dust that had settled on the surfaces, however it had not been subjected to significant maintenance since the 1966 floods, which left a visible trace of mud on the marble.
On the bottom part of the Cenotaph –that is more exposed and in direct contact with the public – we found damage, such as stains, splashes and writing carried out with pencils and felt pens (such as that under the left foot and on the robes of Poetry).
Dante Alighieri's Cenotaph by Stefano Ricci and the early stages of restoration
The metal elements appeared faded in an uneven fashion; the two copper alloy crowns were the most affected by the deposits, whilst the lettering that had been cleaned for various ceremonies were brighter.
The gilding of the central inscription was blackened and missing from some of the letters. The upper inscription "Honour the highest poet" had lost its surface gold rending visible the preparation of the letters carved in marble. The verses of the Divine Comedy in the book held by Poetry, were no longer legible due to the total absence of gilding.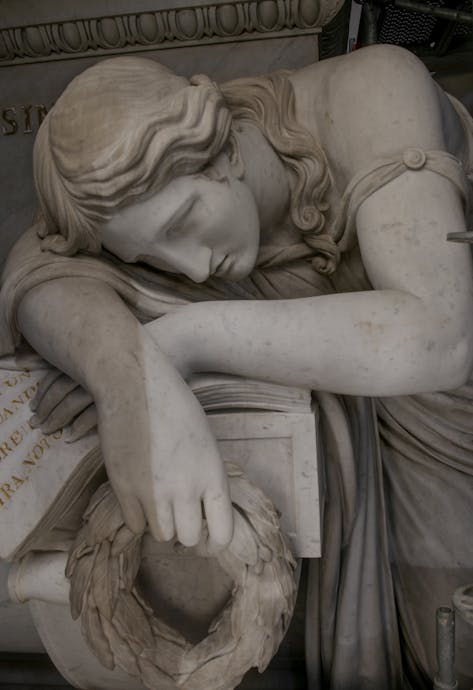 The main restoration operations consisted of dusting, pre consolidation, stratigraphic investigations and surface cleaning.
This was followed by another, localized phase, using laser technology. The phases of surface consolidation, bonding, compensation and plastering were then carried out; finally, the treatment of the iron elements and decorative parts on the bottom of the garland.
Particular attention was paid to the gilding treatment with the integration of gaps by applying a preparation similar to the original and the gold leaf was carried out according to ancient techniques, in order to harmonize as much as possible, yet highlighting the difference between the original nineteenth-century inscriptions and those added on the plinth in 1965 on the occasion of the anniversary of Dante's birth.
Laser cleaning and gilding addition