Francis William Sargant
Memorial to Florence Nightingale, 1913
Artist: Francis William Sargant (London 1870-1960)
Title: Memorial to Florence Nightingale (1820-1910)
Date: 1913
Material and tecnique: Carrara marble (statue); pietra serena stone (plaque, niche surround and corbel)
Dimensions: 180 x 110 x 80 cm
Position: first cloister
The Basilica of Santa Croce still hosts the memorial to Florence Nightingale, considered the founder of the modern nursing profession, in the place for which it was originally designed. She was born in Florence to a wealthy English landowning family in 1820 (and named after the city) and received an excellent education. She showed a strong interest in caring for others from a very young age, and rather than following the conventional path of mother and wife, she declined to marry and began to devote her energy to the sick and poor even though she had no specific training in the field.
Her experience during the Crimean War was to prove crucial. She travelled to Scutari in the Balkans in 1854 with a group of nurses she had trained to care for the wounded, and was instantly struck by the appalling health and hygiene conditions of the troops, more of whom were dying from poor hygiene and malnutrition than from war wounds. Her scrupulous care helped to bring down the death rate drastically. Her nocturnal rounds visiting patients to administer care and words of comfort soon earned her the nickname of "Lady with the Lamp".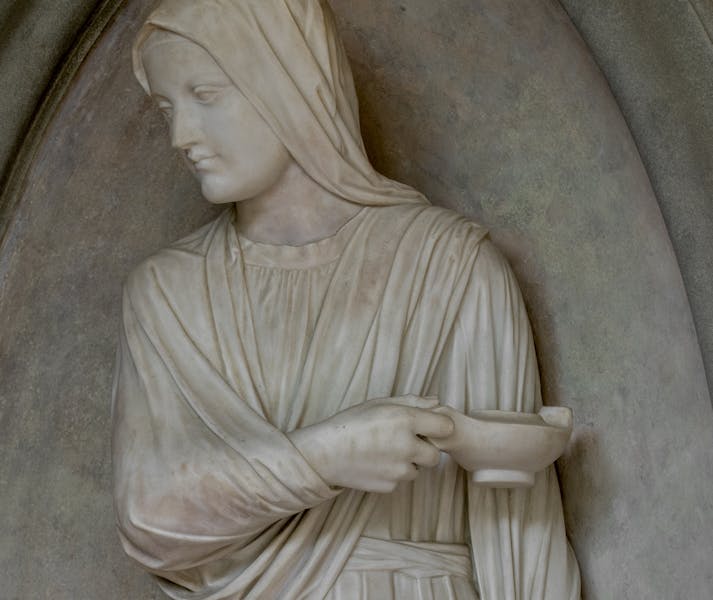 Inspired by her hands-on experience, she established the world's first secular school of nursing at St. Thomas's Hospital in London in 1860 to ensure that patients received proper cared from trained staff.
The memorial is the work of the English sculptor Francis William Sargant, who trained in London and Munich but worked in Italy for many years. The simple, unostentatious and relatively small memorial consisting of a marble statue depicting a girl holding a lamp stands in a niche hollowed out of the wall. The base on which Florence stands bears the inscription HORAM NESCITIS ("Ye know [not] the hour" - Mt. 25:13), while the inscription in pietra serena stone celebrating her as a shining example of womanhood is by Isidoro del Lungo.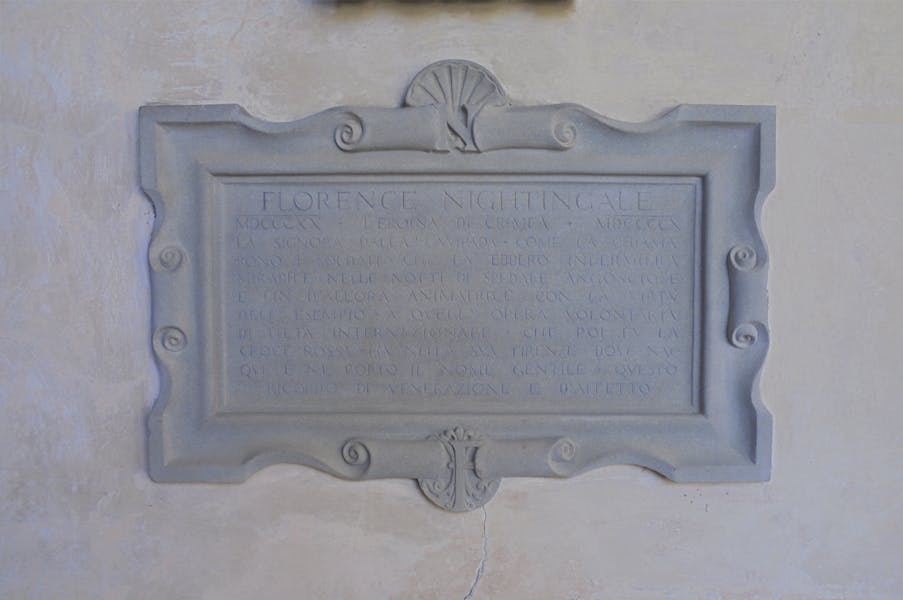 Florence's birthday, 12 May, is celebrated throughout the world as International Nurses Day.