Museum
The Museo dell'Opera di Santa Croce currently occupies the former refectory and wing of the Franciscan convent separating the two cloisters.
The Cenacolo, or former refectory, a large rectangular room with a trussed wooden roof and lit by large two-light windows, was designed and built in the early 14th century along with the cloister and loggia along the south wall of the church, in what was one of the earliest phases of the complex's construction.
The Napoleonic suppression of 1808–10 led to the deterioration of this part of the convent, which the friars had ceased to use. The refectory was turned into a carpet factory and bore the marks of the flood of 1844. When the capital of Italy was moved to Florence in 1865 and the Public Debt Office was installed in Santa Croce, the former refectory became a storage space for files and folders, but by 1884 the idea had begun to take root of using it as an exhibition space. A variety of materials from the Opera's storage facility was put on display in it, but it only opened as a museum proper on 2 November 1900. The layout, under the guiding hand of Guido Carocci in his capacity as Inspector of Monuments, was "improvised" in a mere three or four days and the museum was used to house the works from the Santa Croce complex that no longer had a home, along with material from the 19th century demolitions in the city's old historic centre and from other suppressed religious establishments.
In the second half of the 20th century it was decided to renew the museum, which finally opened with a new layout after lengthy renovation work on 26 March 1959 and was expanded in 1962 with the inclusion of rooms in the building separating the two cloisers, thus allowing the Cerchi Chapel, a Gothic structure remodelled in the early 15th century, to become part of the museum.

In the terrible flood of 4 November 1966 the water in the former refectory rose to a level of 5.2 mt: "almost the height of two rooms in a modern block of flats" as people said at the time. Fuel oil and muddy water ruined the works, leaving yellowish stains on them, and Cimabue's Crucifix became the tragic symbol of the flood as a whole.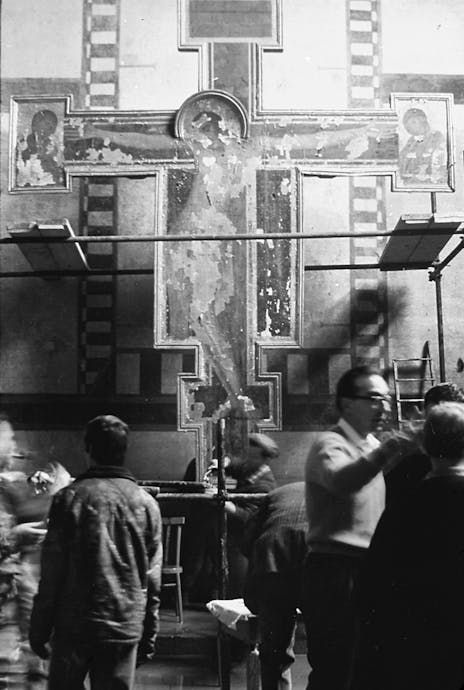 The museum remained closed for a long time, reopening in 1975 after Taddeo Gaddi's fresco in the main refectory and Jacopo Ligozzi's fresco in the adjacent winter refectory had been detached and replaced. The following year Cimabue's large Crucifix was brought back to mark the 10th anniversary of the flood, before being moved to the sacristy along with all the most important canvas and panel paintings restored over subsequent decades.

The museum is currently being redesigned and its layout is in the process of being renovated, though the former refectory itself and the masterpieces it houses can still be visited.